Coffee and sustainability don't always go hand in hand. When we created Fathom Coffee, we wanted to make a small impact by choosing to package our roasts in reusable mason jars. Our model is simple: we vacuum seal the roasts in a jar, you buy the coffee, bring back your empty jar to get $1 off your next coffee purchase, and we sanitize the jar to reuse it for another roast. This keeps the coffee fresh and packaging waste out of landfills. Fast forward to 2020 when we became a 1% for the Planet business member and wanted to make an impact locally. 
Our coffee shop sits just blocks from the Atlantic Ocean in the ViBe Creative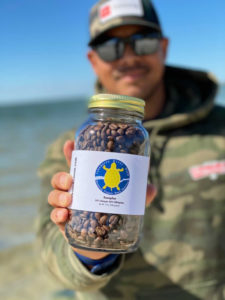 District of Virginia Beach, so water is everywhere. And without water, there would be no coffee. The team at Lynnhaven River NOW, a local grassroots organization dedicated to educating and preserving Virginia Waterways, have been longtime friends and neighbors, so a partnership felt like a natural next step. We started by applying for their Pearl Business Certification which encourages local businesses to incorporate environmental stewardship within their business model. Virginia Beach is part of a complex watershed system that includes eight sub-watersheds that feed into three main watersheds. These waterways define the Hampton Roads region. 
We know one of the best ways to make a change is through honest, grassroots efforts within the community. That's why we created a special label edition of our Kenopian roast, which features the Lynnhaven River NOW logo and more information about their organization. 10% of proceeds from each jar will be donated to the organization from now until the end of the year. Through coffee and community, we hope to spread awareness of the work they are doing and why it is so important to the Virginia Beach ecosystems. 
Learn more here about Lynnhaven River Now and becoming a Pearl Business.