The processing of making coffee is fun, the act of drinking coffee is even better. But the clean up? Not so much. Regular cleaning of your coffee equipment is necessary for sanitary reasons and to prolong the usability of the equipment. Thanks to the several different methods of brewing coffee, everyone can pick their favorite! But that also means lots of different devices, tools, carafes, etc. that require individual cleaning. Here are our best practices for cleaning different types of brewing equipment: 
AeroPress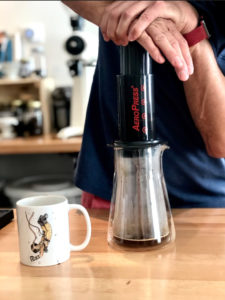 The quickest way to clean your AeroPress is to rinse the parts after use with warm water. You'll want to dispose the coffee grounds puck, divide the plungers, then rinse the plungers, cylinder, vacuum seal, and filter cap all separately. This method works in the short term, over time you'll see oil build up which will require cleaning with a mild soap. Soak the parts in some warm water and mild soap, only for 2-3 minutes before scrubbing any remaining residue off the parts. Just use your fingers for this, not a scrub brush of any kind. This might scratch the pieces and cause a little damage. Make sure to rinse all parts thoroughly before setting out to air dry! The AeroPress is top-shelf dishwasher safe, but we recommend only doing that about once a month for a deep cleaning, not for everyday cleaning. 
Chemex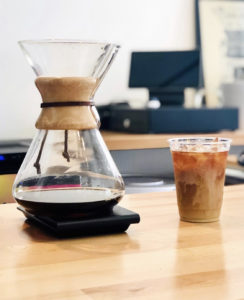 We love using our 6 cup Chemex to make a pour over with enough coffee to share. But when it comes to keeping it clean, there are a few ways to keep your Chemex clean and ready for your next cup. First step is to remove the wooden grip around the neck of the Chemex and leather tie, also make sure you've rinsed out any remaining coffee from your last pour over. The simplest way to clean your Chemex is with soap, water, and a scrubbing brush. Make sure to use a soft bristled brush and be gentle with the delicate glass body while scrubbing. We recommend you do this after each use to avoid any bacteria growth from residue. For a quicker rinse when you don't have time to scrub, you can boil water, pour it in the Chemex, and swirl around for a minute to eliminate any build up or residue from your most recent batch. Just like the AeroPress, Chemex brewers are dishwasher safe! You'll want to confirm that your specific Chemex is 100% dishwasher safe first, then remove the wooden grip and leather tie, carefully place on the top rack, and you're good to go. The end result will be a sparkling clean Chemex. 
Ceramic Dripper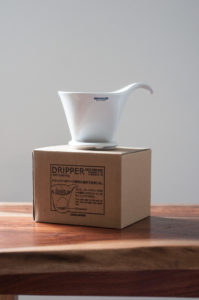 If you've come by the shop for a pour over, you've seen us use ceramic drippers to make your drink. While there are many different brands and varieties to choose from, a standard ceramic dripper is always a good choice. We primarily use Bee House and Hario in the shop. First thing is to discard the filter and grounds, then using soap, scrubber, and warm water you can clean the dripper just like a regular dish you wash by hand. Make sure to scrub the inside and outside of the device to eliminate any stray grounds, then rinse with water, and let air dry. For a deeper clean, create a warm bath for your dripper and let it soak for 20 minutes, then you can give it a good scrub, rinse, and let it air dry. Most drippers are also dishwasher safe, double check that yours is one of them and you can run it through a regular cleaning cycle. Just like the Chemex, be mindful of the breakable nature of your equipment and place it gently on the top rack.
Fellow Stagg X & XF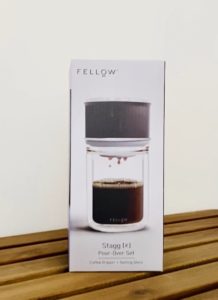 We're big fans of Fellow and all their coffee products, that's why we carry them in store for you! There are a few different pour over sets and individual drippers that we offer, but here we are focusing on the Stagg X and XF sets. As you brew coffee, oil residue builds up over time and can affect the quality of our cup. To clean your Fellow dripper you'll want a hard scrubbing brush, soap, and warm water. Regularly cleaning your dripper with the hard scrubbing brush will ensure each time you use your Fellow Stagg X or XF, your cup will taste amazing. For the glass carafe using soap, warm water, and a soft scrub brush (just like the Chemex) will keep it sparkling and ready for your next brew. If you want to sterilize the glass carafe or eliminate any built up residue, you can put a few drops of this cleaner into the carafe then fill with hot water and soak for 10-20 minutes before emptying and rinsing thoroughly.